After we had breakfast with the giant fritters at Wai Kee Congee Shop, we headed to Lyndhurst Terrace to continue on our food race. We were three hungry jacks who were never full. Even if we were full, there were still levels of 'very full' to 'exploding' when we sensed and spotted good food!
This time round, we were looking for the last British Governor of Hong Kong Chris Patten's favourite egg tarts, which have been nick-named "Fei-Paang egg tarts" that literally means "Fat Patten's Egg Tart" (肥彭蛋撻).

Tai Cheong Bakery (泰昌饼家) is a very old establishment that used to occupy the shop opposite the existing shop. When the landlord decided to increase the rental by two folds, the shop moved across the street to 35 Lyndhurst Terrace, Central. This tale was told to me by a friend from Hong Kong who used to eat Tai Cheong's egg tarts for breakfast. I really envy her!
There were actually more than egg tarts in the bakery, but we were just too indulged in the egg tarts that we couldn't be bothered to try anything else. Although they all looked tempting, we wouldn't want to reach the level of 'exploding.'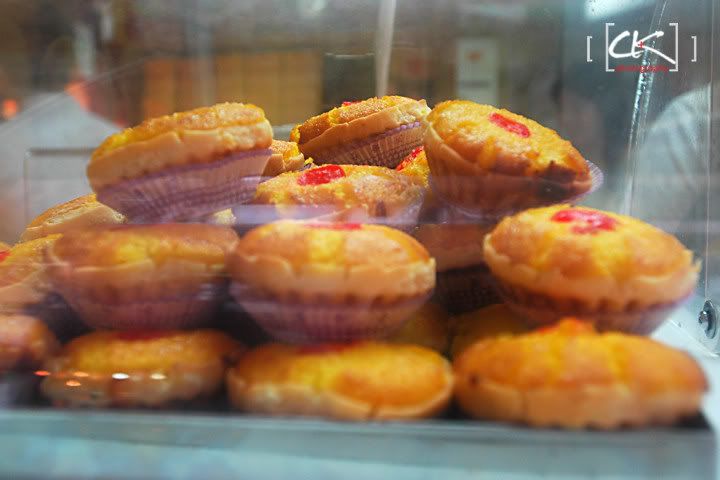 According to the Hong Kong Best Food Guide that we had in hand, they use almond meal instead of flour to make the crust.
At Tai Cheong Bakery, every egg tart is fresh from the oven. At the rate the egg tarts are being sold, it is impossible to get an egg tart that is left overnight. You gotta make that special request from the salesgirl if you want to and collect it the next day.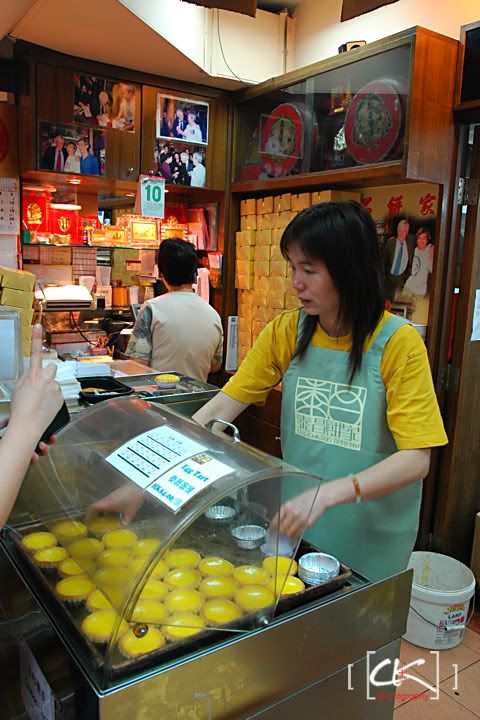 They won't give you the egg tarts in the aluminium-foil moulds. These are recycled. The egg tarts are transferred to the paper cups on sales.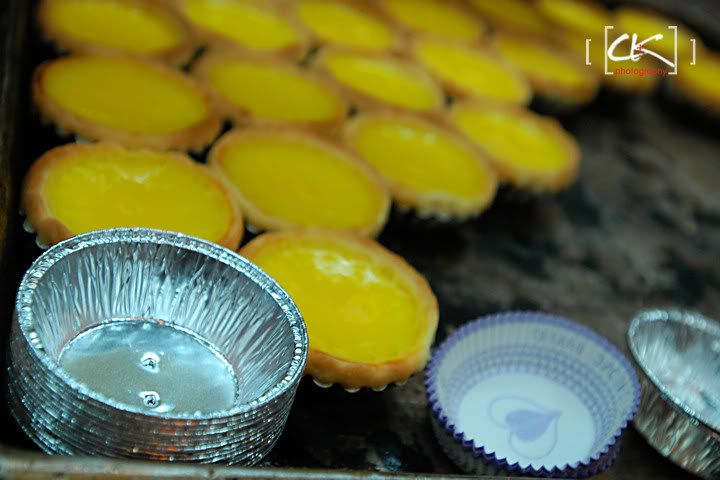 One whole tray of egg tarts can be emptied in minutes. If you are lucky, you get the egg tarts right there and then. If you are half-lucky, you gotta wait for a new batch from the oven. If you are unlucky, the egg tarts are sold out!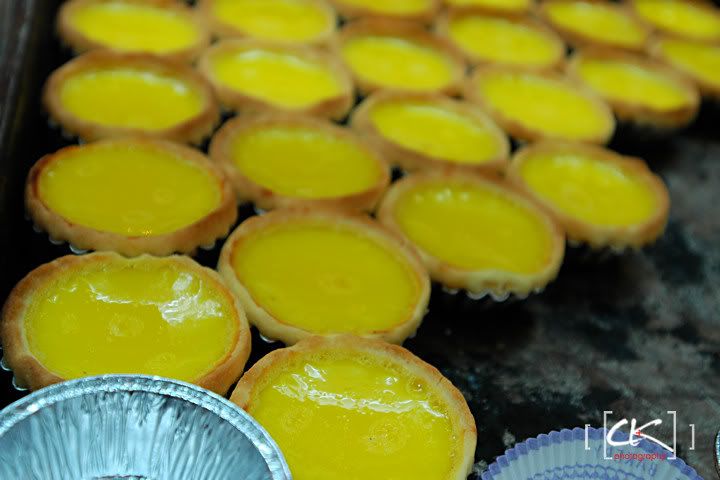 Each egg tart costs HKD4 which is considered reasonable for the high cost of living in Hong Kong. Tai Cheong Bakery is open from 7:30 a.m. to 8:30 p.m., but if you want the "Fei-Paang egg tarts," you better get there early.